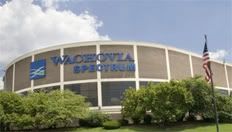 I just got back from the Spectrum to watch the Sixers play their last game there before it is knocked down. It is an historic moment in Philadelphia sports because the Spectrum hosted the Sixers and Flyers for many years. Although, they no longer play their, both team's championships have come there. Many former Sixers were there including Julius "Dr. J" Erving and Moses Malone.
The Sixers ended up winning the game 104-101 over the Chicago Bulls. It was a hard fought game for the Sixers and they deserved to win. Thaddeus Young played a terrific game, scoring 31 points. He is really progressing for a player only in his sophomore season in the NBA. Another good, young player, Marreese Speights, added 10 off the bench for the Sixers. I think these two players will soon be the face of the Sixers.
Before the game, Dr. J made a nice speech, basically thanking all of the Sixer fans. It was a nice token from a guy who has become an icon in this city. When they announcing the former players there, the Doc's cheers were probably twice as loud. It was a special moment for all Sixers fans.
I am very happy I attended the game. I (along with many other Philly fans) have made many memories at the Spectrum. No, it's not as big or convenient as the Center, but it sure does get a heck of a lot louder in there. The floor is sticky and the hallways are cramped (forget about leg room), but the Spectrum will always be "America's Showplace."
The reason they are blowing up the Spectrum? It's to build a hotel combined with a mall. I don't know where they are going to get the money for that but that's the plan. And, quite frankly, it's a waste of a stadium. Who needs more hotels or malls? I would much rather have the Spectrum.