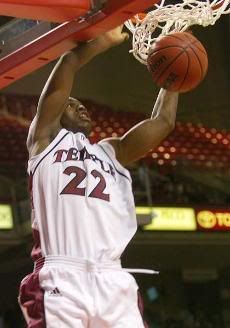 The Temple Owls will be going to the NCAA Tournament. We know that for sure after the Owls beat the Dusqusne Dukes in the Atlantic 10 championship game. The Owls were impressive in the game, especially Lavoy Allen. The sophomore forward Allen scored 10 points and grabbed 14 boards.
Dionte Christmas is the go-to-guy in the Owls offense. Christmas had 29 on the game, and went a fantastic 7-16 from the three point line. The Owls have been playing really well. Last night, they beat Xavier, who were heavily favored and ranked at the time. I did not see that game because I was at the Sixers last game at the Spectrum (scroll down for full story).
I think Temple would have gained an at-large bid to the tourney anyway with their win over Xavier. But now, at least there will be no doubts. Temple is hot right now, and that's the key to making a run deep in March. I think the Owls can make a run. I see them as an 8-10 seed right now. Tomorrow the brackets will be announced.