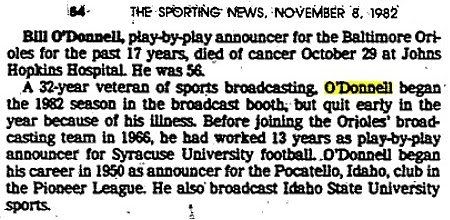 Harry Kalas, Hall of Fame broadcaster for the Philadelphia Phillies, has died at age 73. I was shocked when I heard the news. I got the message from a friend and I was stunned. Kalas was in the booth and sounded fine for yesterday's game in Colorado. As tragic as it is, I will miss Harry the K.
Harry has been the voice of the Phillies since they opened Veterans Stadium back in 1971. He was Phillies baseball. Fans will remember Harry far better than they remember any player. Kalas was in our ears every night during the Spring, Summer, and (sometimes) Fall. You felt like you knew the man with the booming voice who would describe every play vividly.
At least he was able to see the Phillies win a World Championship while he was in the booth last year. No Philly fan will ever forget his call of the final out of the 2008 World Series. "The oh-two pitch. Swing and a miss! Struck him out! The Philadelphia Phillies are the 2008 World Champions of Baseball! Brad Lidge does it again, a perfect forty-eight for forty-eight saves on the year. And let the city celebrate!" That's right off the top of my head.
Of course, Harry is famous for calling home run balls using his famous words, "Outta Here!" There will be so many things everyone misses about the way Kalas calls a ball game. Everyone in Philadelphia was spoiled by the great narrating of Harry the K.
Watching a Phils game will not be the same without ya Harry. He is the voice of the Phillies and the voice of baseball and spring for so many Philadelphians like me. He has always been there, but now things will be different. And they never will they be the same.
To see a list of Harry's accomplishments click
here.