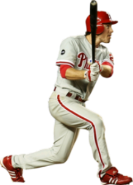 The Phillies have just finished finishing off the Brewers, 3-1. Cole Hamels pitched a beauty of a game, allowing no runs through eight innings. He should have pitched the ninth, but Manuel took him out in favor of closer Brad Lidge. Lidge seems unable to pitch an inning without a ton of drama (there were runners on second and third with two outs). In my opinion, Hamels should have been left in.
Hamels was pitching superbly, giving up only two hits. He had only thrown 101 pitches through eight innings. What Uncle Charlie should have done was keep Hamels in but keep Lidge loose just in case Cole slipped. Lidge threw 30+ pitches and now will not be able to pitch tomorrow night.
But I don't know what the situation was. Maybe Hamels told Charlie he didn't want to pitch the ninth? I think Hamels has to tell Charlie that he needs to complete the game. Tell Charlie he will handle the rest.
The Phillies' offense looked incredibly weak against a average young pitcher (Yovani Gallardo) and a mediocre Brew Crew 'pen. Chase Utley's line drive in the third was dropped by center fielder Mike Cameron to drive in two runs. Gallardo walked in a run later in the inning.
Game 2 of the NLDS for the Phils will be tomorrow night. Brett Myers will be facing pitching- lord C.C. Sabathia. I think the "C.C." stands for "constant complete" for the complete games Sabathia throws practically weekly. Tomorrow will be a tough test.