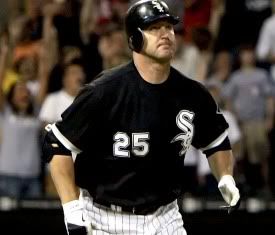 The Chicago White Sox will being playing baseball in October. Last night they beat the Minnesota Twins, 1-0. They won the one game playoff to make the playoffs. John Danks (White Sox) and Nick Blackburn (Twins)
both
pitched incredibly for young pitchers in this important game. The deciding run came in the 7th inning, when former Phillie Jim Thome launched into the haze in deep center. He was the hero for the heroic White Sox.
Ken Griffey Junior also made a nice play when he threw out Micheal Cuddyer from center field. Cuddyer would have been the first run of the game, but Junior made a very nice throw to nail him at the plate.
The White Sox will now be facing the AL East Division-winning Tampa Bay Rays in the ALDS.